Bambinchen 2 follow-on milk
---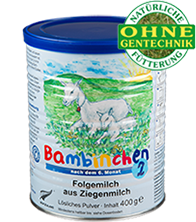 After the 6th month
Goat's milk-based follow-on milk
400 g can – loose powder
1 can of Bambinchen 2 produces approx. 3 litres of follow-on milk.
Ingredients:
Full-cream goat's milk powder 43% (heat-treated), lactose (from milk), vegetable oils (High-oleic sunflower oil, rapeseed oil, sunflower oil, antioxidants (sunflower lecithin, mixed tocopherols)), minerals (calcium citrate, sodium citrate, dicalcium phosphate, calcium hydroxide, iron sulphate, potassium chloride, zinc sulphate, copper sulphate, manganese sulphate, potassium iodide, sodium selenite), vitamins (vitamin C, vitamin E, niacin, vitamin A, vitamin D3, calcium-D-pantothenate, vitamin K1, vitamin B12, vitamin B1, vitamin B2, vitamin B6, folic acid, biotin), choline chloride, L-tryptophan, L-isoleucin, taurine.
Produced in a protected environment.
Composition
Powder per 100 g
of milk per 100 ml
Calorific value
2100 kJ / 510 kcal
275 kJ / 66 kcal
Protein
10,1 g
1,3 g
Carbohhydrates
57,4 g
7,4 g
– lactose
57,4 g
7,4 g
Fat
26,7 g
3,4 g
– saturated fatty acids
10,4 g
1,3 g
– monounsaturated fatty acids
12,1 g
1,6 g
— Oleic acid ω9 (Omega 9)
10,5 g
1,4 g
– polyunsatuated fatty acids
4,2 g
0,54 g
– Linoleic acid ω6 (Omega 6)
3,0 g
0,39 g
– α-linoleic acid ω3 (Omega 3)
0,45 g
0,058 g
Minerals
Sodium
140 mg
18 mg
Calcium
500 mg
65 mg
Phosphorus
330 mg
43 mg
Potassium
570 mg
74 mg
Chloride
530 mg
68 mg
Magnesium
46 mg
5,9 mg
Iron
5,5 mg
0,71 mg
Zinc
3,8 mg
0,49 mg
Iodine
63 µg
8,1 µg
Copper
350 µg
45 µg
Manganese
65 µg
8,4 µg
Selenium
9,5 µg
1,2 µg
Fluoride
50 µg
6,5 µg
Vitamins
Vitamin A (RE)
540 µg
70 µg
Vitamin D3
7,5 µg
1,0 µg
Vitamin E (α-TE)
12 mg
1,5 mg
Vitamin K1
52 µg
6,7 µg
Vitamin C
76 mg
10 mg
Vitamin B1
480 µg
62 µg
Vitamin B2
950 µg
120 µg
Niacin
5300 µg
680 µg
Vitamin B6
280 µg
36 µg
Pantothenic acid
2700 µg
350 µg
Vitamin B12
1,4 µg
0,18 µg
Biotin
18 µg
2,3 µg
Choline
100 mg
13 mg
Taurine
36 mg
4,6 mg
Inositol
30 mg
3,9 mg